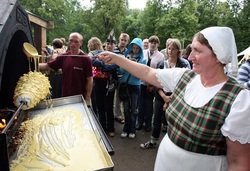 A couple of months ago I did a post about a very exciting Lithuanian pastry - the
tree cake (šakotis).
And just recently I received an email from
Carl Pendle
, a UK-based freelance lifestyle photographer & filmmaker, who shared a fascinating video he created about the process of baking this cake.
The video was filmed in a specialized bakery, which uses real birch wood fire and employs professional šakotis bakers. Frankly, I was astonished to see the speed of rotation and the furiously flying batter. I assume the speed and the batter consistency can be adjusted depending on the desired length and shape of cake "branches".
My sincere thanks to Carl for sharing this video!
Carl loves filming food, people and travel. If you are interested in commissioning him to do any of the above, Carl can be found on
www.carlpendle.com
and on twitter @ishootfood .
---