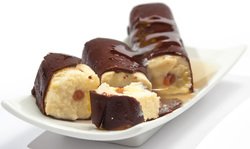 For the lack of a better term you may call this food a cheese cake in chocolate. Its original name, "
glaistytas vaškės sūrelis"
, literally translates "little cheese of curd cheese in chocolate" (OK, not so much literal, but I told you - cheese is big in our kitchen, and we even have cheese made of cheese - a
curd cheese cheese
!)
In Lithuania, it is popular as a dessert, a breakfast item or a snack to have with tea.
You can make it at home by mixing curd cheese with heavy cream, butter, sugar and flavor of your choice (fruits, jam, nuts), dividing the mixture in 2-bite size sticks, freezing them, later dipping them in melted chocolate and refrigerating.
Or make it simple - go into an Eastern European supermarket, where you will be likely to find a few of them ready made. Below are a few variations and brands for your consideration.

PS - look at all the kiddy packaging. It is because parents mostly buy these treats for their kids (who love them), and are more wary about consuming them themselves. Each of these bites packs around 200 calories - and you usually can't stop at one :)
---