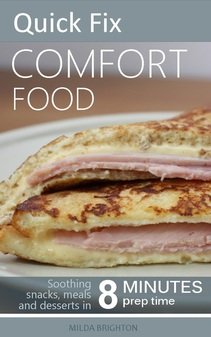 One of my cookbooks, "Quick Fix Comfort Food" will be given away for free at Amazon Kindle store on November 29-30*, 2013. You are cordially invited to pop by
the Kindle store
to download it!
*Both dates are based on the US Pacific Time.
Recipes in this book are designed for quick & simple preparations. While working on my
Lithuanian recipe book
, I realized that I have lots of simple and great tasting recipes, which would make a book on their own. That is how "Quick Fix Comfort Food" came to be.
The recipes are not strictly Lithuanian, but a few of them were inspired by Lithuanian cuisine. Many would recognize apple or cottage cheese pancakes, crusty bites or mini fluffy cheesecakes as definite versions of Lithuanian food. And how about that rice & crab salad - most of its ingredients are so non-Lithuanian, but the salad has been wildly popular in Lithuanian for a couple of decades now.
Hope you'll enjoy it!